I recently had some one ask me "Do you always wear sneakers?" My reply with out hesitation was "But of  course." The conversation continued deeper in to my love of and infatuation with sneakers, sneaker culture and the aspect of wearing shoes made for sport as a fashion accessory. It lead me to wonder when and what influenced me to boycott other forms of footwear for my kicks. The when is vivid, I remember being 20 and buying a pair of Kenneth Cole bulky ass hard bottoms not because I liked them but because I needed them to get into a party at a club. It was at that point I decided not to waste my money on shoes I didn't like. Moreover if a party I didn't allow my sneakers then I didn't want to be there.

I then remembered the first time I looked at sneakers as more than my ball shoes and more like my mall shoes. When I was a kid in DC I saw this series of commercials for Air Jordan staring not just Mike but another familiar face. In the late 80's a young radical film maker from New York by th name of Spike Lee was making his mark. I was a fan of Spikes movies and was introduced to them with his 1986 release "She Got To Have It". I saw the movie on the low at my older cousins dorm room at Howard University. Had to keep it low because I was a kid and it was an R rated movie. If my Mom knew that then she would have killed us. Spike also co-stared in the movie as Mars Blackmon, funny loud mouth Hip-Hopper from Brooklyn. It was a surprise to see him as the same character for a commercial to promote basket ball shoes. These commercials with Mars made the shoes more about a lifestyle than the actual sport. And that was the what that influenced my infatuation with sneakers.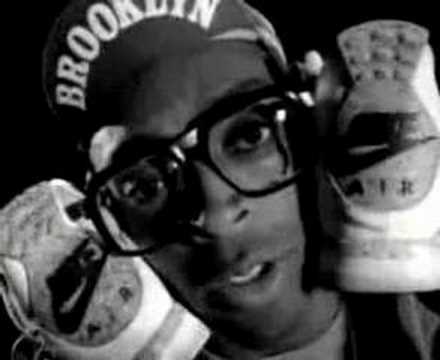 I remember the year the Jordan IV's came out. I was saving up like a mad man to get them. I'm not sure if I was more excited about how they looked or how they felt. Finally I saved up enough and I bought them, right at the beginning of basketball season. I wore them to play ball and after every practice and every game I would clean them with a tooth brush to keep them fresh for when I would hang out with the homies. I even had to sneak them out of the house because my Moms thought some one would shoot me for them, things were crazy in D.C back then.  Later in the season the black and red ones came out. I was pissed that I couldn't afford to get that pair as well.

After I couldn't keep them clean any longer and as they got older, I wore them less to hang out. However I would still rock them every now and then and I would wear them whenever I had company at the house. They where my fly house shoes. I wore those things until there were holes on the inside of them. I had them tucked away in my closet. When it was time for me to go to college I left them home my freshman year. I remember being home in the summer and I wanted to rock them  to a cook out. I tore my room apart but no J's. I asked my mom if she had seen them. Her reply was "oh them old things I threw them out". I was horrified.. I think I might have cried. I felt like I had lost a part of me. Don't think I could talk to Ma Duke the rest of the summer. I have had lots of fly kicks since then. I have even bought the Jordan IV every time they reissued them, but nothing has been able to replace them.
So here is my invitation to you…. Tell us what were the kicks that influenced you the most?